MANY THANKS TO THIS PAST YEARS' SPONSORS AND DONORS!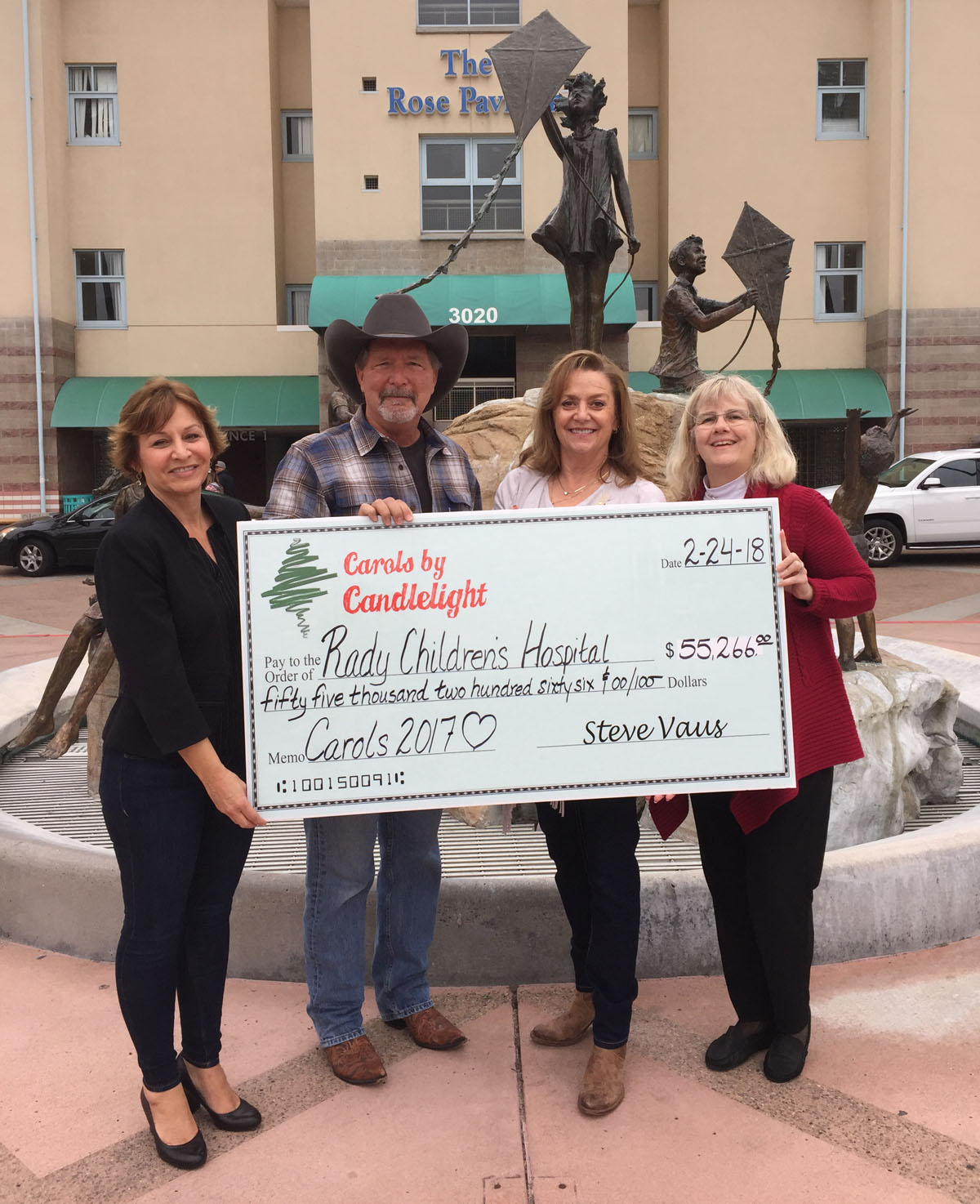 WE NEED SPONSORS and DONORS FOR 2018!
Whether you can give $500 or $5,000
CAROLS BY CANDLELIGHT
depends on angels like you to help make this great fundraising concert 
benefiting Rady Children's Hospital possible.



COX
KUSI 
AM 760 KFMB
San Diego Union Tribune

Carter & Associates
EDCO
Dwight Gordon
SDG&E
Walmart

Hampton Inn – Poway
Marathon Construction
Rancho Bernardo Inn
Toyota of Poway

Christa McAuliffe Academy School of Arts & Sciences
Rincon Band of Luiseno Indians
Toyota Carlsbad/Lexus Carlsbad & Lexus Escondido

Arie DeJong
AT&T
Jamie Pappas
Marshall Goldsmith, Inc.
Original Pancake House

Rancho Computer Networks, Inc.

Auctioneer:  Todd Stephenson
Cast and Crew Dinner Sponsor:  Smokey Jake's BBQ
Hero Ticket Sponsors: Barona Resort & Casino, Capexco,  Rincon Band of Luiseno Indians, Coach & Diane Snyder
Lobby & Volunteer Manager:  Michelle Pettycord
Program Sponsor:  That Place That Ships
Transportation Sponsor:  Masterpiece Limousine
VIP Reception Hostess:  Sharon Erwin – Erwin Realty
VIP Reception hors d'oeuvres:  Sunny  Side Kitchen
Website Design and Management:  WebdesignsbyTerri.com

A Delight of France
Barona Resort & Casino
Bellissima Day Spa
Bernardo Winery
Bonnie Maloney
Bradford Renaissance Portraits
California Center for the Arts, Escondido
Callaway Vineyard & Winery
Charles & Alicia Foster
City of Escondido Police Department
Coast Sewing & Vacuum Center
Cohn Restaurant Group/Vintana
Cooking 4 Life, Inc.
Coronado Playhouse
Cygnet Theatre
Dang Good Yoga – Escondido
Del Mar Thoroughbred Club
Diamond Boutique
EDCO Waste and Recycling
Elite Island Resorts CARIBBEAN
Fallbrook Winery
Family Karate
Filippi's Pizza Grotto
Flagship Cruises & Events
Fragments By Hayley
Gaslamp Plaza Suites
Gemstone Gallery Inc.
Hawthorne Country Store
Hungry Hawk Vineyards & Winery
Ilanit
In-N-Out Burger
J & M Family Restaurant
Jeannine Linden – Hair Stylist
Joe's Glass Shack
Kimpton Hotel Palomar San Diego
KUSI NEWS
Lamb's Players Theatre
Lemus Auto Detailing
Lifetime Smiles
Los Angeles Chargers
Lotus Thai Downtown
Maritime Museum
Mike's BBQ
Minx Spa
Mona and Bill Durney
Mr. Jingles Christmas Trees
Museum of Making Music
My San Diego North County – FotoBoothImages.com
Nancy Canfield
Nicoli Productions
Nine-Ten Restaurant and Bar
Olive Garden Italian Kitchen
Pala Casino/Spa/Resort
Palomar Family YMCA
Patio Playhouse
Personal Laser Clinic – Jerome Sinsky M.D.
PRP Wine International
Rady Patron/Jewel
Rancho Computer Networks, Inc.
Rockin' Jump of San Diego
Rosemary-Duff Florist
ROWLEY
San Diego Automotive Museum
San Diego Botanic Garden
San Diego Children's Discovery Museum
San Diego Museum of Man
San Diego Padres
San Diego REPertory Theatre
San Diego Wine Co.
Sharon & Jeff Erwin
Stone & Glass
Sylvia's Skincare
The Fish Market
The Grand Tea Room
The Inn at Rancho Santa Fe
The NAT – San Diego Natural History Museum
The Orleans Hotel & Casino – Las Vegas
Timekeepers of Escondido
Treasures of Piemonte – Escondido
25th Hour Creations
Ummi Clark, CMT – Balanced Touch
Unicorn Jewelry & Watch Repair Boutique
USS Midway Museum
Virginian Lodge – Virginia Napierskie
Window Magic
Zodiac Pool Care, Inc.

Sound Image
Steve Vaus Productions
Zulu Nyala
See sponsorship opportunities for more information.