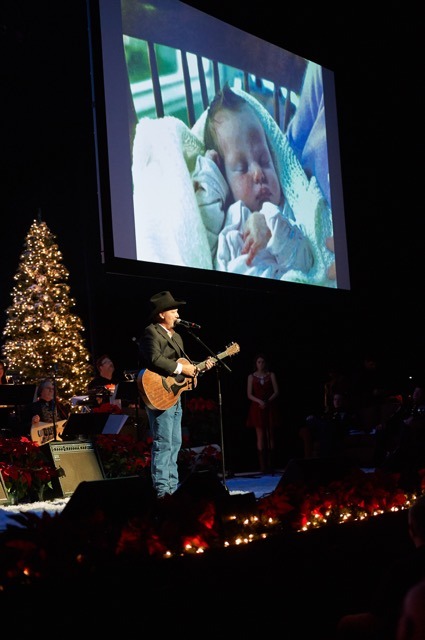 A spectacular family Christmas concert,
Carols by Candlelight celebrates its 31st Anniversary in 2021.
Carols by Candlelight, in San Diego, was created in 1990 by Steve Vaus and Wayne Nelson with the goal of making a life-changing difference in the lives of children. Originally a free concert at Horton Plaza, the event eventually outgrew that location, moving to the Poway Center for the Performing Arts and ultimately to its current home, the California Center for the Arts, Escondido.
Over the years, Carols by Candlelight has featured pop and country stars Phil Vasser, LeAnn Rimes, Jamie O'Neil, Kenny Loggins, Josh Gracin, Bucky Covington, Collin Raye, Sara Evans, Juice Newton, Billy Ray Cyrus, Kenny Loggins, Lee Anne Womack, Little River Band, the Commodores, and may others singing Christmas Carols along with their biggest hits.
The net proceeds benefit Rady Children's Hospital – San Diego.
Carols by Candlelight sponsorships are handled by our fiscal agent:
San Diego County Prosperity Foundation – a 501(c)(3)
Tax ID Number 46-1924716
–
In The News
–
Valley Roadrunner – November 2019
Carols by Candlelight celebrates 30th year at the Center
–
Poway Mayor Steve Vaus announces 2018 Carols by Candlelight performers – October 2018
–
San Diego Union-Tribune- December 2015
Carols by Candlelight sing out for a good cause
–
San Diego Union-Tribune- December 2014
New Poway Mayor Celebrates 25th 'Carols' Concert
–
KUSI Good Morning San Diego – November, 2012
–
Pomerado News – December, 2012
Auction Winner Returns Prized Guitar to Young Donor, by Steve Dreyer and Emily Sorensen
Kirsten Blackburn, a Poway High School sophomore, decided to repay Rady Children's Hospital for changing her life by donating her prized guitar, signed by Taylor Swift, to last weekend's "Carols by Candlelight" auction. Not only did her guitar bring in a whopping $4,700 for the hospital, but her good deed was unexpectedly rewarded when the unnamed auction winners, who are also from Poway, returned the guitar to Blackburn.
–
The San Diego Union-Tribune – December, 2010
Carols by Candlelight marks 21st anniversary in Escondido, by Pam Kragen